Read Lynne's Design Story
How do you go from a little girl designing her own Barbie Furniture to a published Molecular Biologist to an interior designer who specializes in helping brilliant mommas create truly unique bedrooms for their amazing daughters?
Here is the abridged version.....
Art runs deep through my veins. 
I grew up in family full of insanely talented artisans and craftsmen. I could sew before I started Kindergarten. I obsessed on color. My family's Antique and Furniture Manufacturing Business served as the backdrop for a childhood full of beautiful things but the constant reminder that those things were meant for someone else. 
We spent our weekends traveling to estate auctions and summers jumping in the monstrous sawdust pile where I could, in a single sniff, tell you exactly which species wood was about to be transformed.
My dad was a passionate, perfectionist.  He didn't start the business.  He left his corporate job to step in for my grandparents when they started having health problems.  He expanded the custom furniture portion of the business, learning how to reproduce centuries old craftsmanship in a modern format, and quickly earned the reputation as the most knowledgable maker of Early American reproduction furniture in several states.  (Pieces of his work still live in the Smithsonian.) Despite the position it held, the business struggled financially.

I am lucky to have all my fingers.
When my friends were getting Barbie Dream House furniture, I was building my own from scraps engineered from the wood pile outside the shop. 
I had all the resources to imagine accidents and leftovers into extraordinary accents.  Stains, paints, scroll saws, sanders, industrial sewing machines= MAGIC.  (Yes, I am lucky to have all my fingers).
While I envied my friends' pink plastic, I knew that I had mad skills.  But they seemed more like survival skills at the time.
My great-grandfather had been a talented artist, poet, and spiritual leader in the community.  My grandmother and her sisters followed in his footsteps.  From them I learned to paint, sew, knit, crochet, write-poetry and prose, carve, frame, gild, embroider; you name it. 
My grandmother designed the house my dad grew up in, and there are stories of her laying the hand-sawn pine dining room floor while 6 months pregnant with my aunt.
The "shop" as we called it was on 5 acres of apple, peach, and cherry orchards with about an acre of vineyard, some blueberry bushes, fig trees, pecan trees and a pear tree thrown in for the complete fruit salad.
I loved studying how the colors changed through the seasons and ripening. The birds.  The insects.  I spent hours in the trees trying to understand nature by painting my world.
I was the girliest tomboy you've ever met.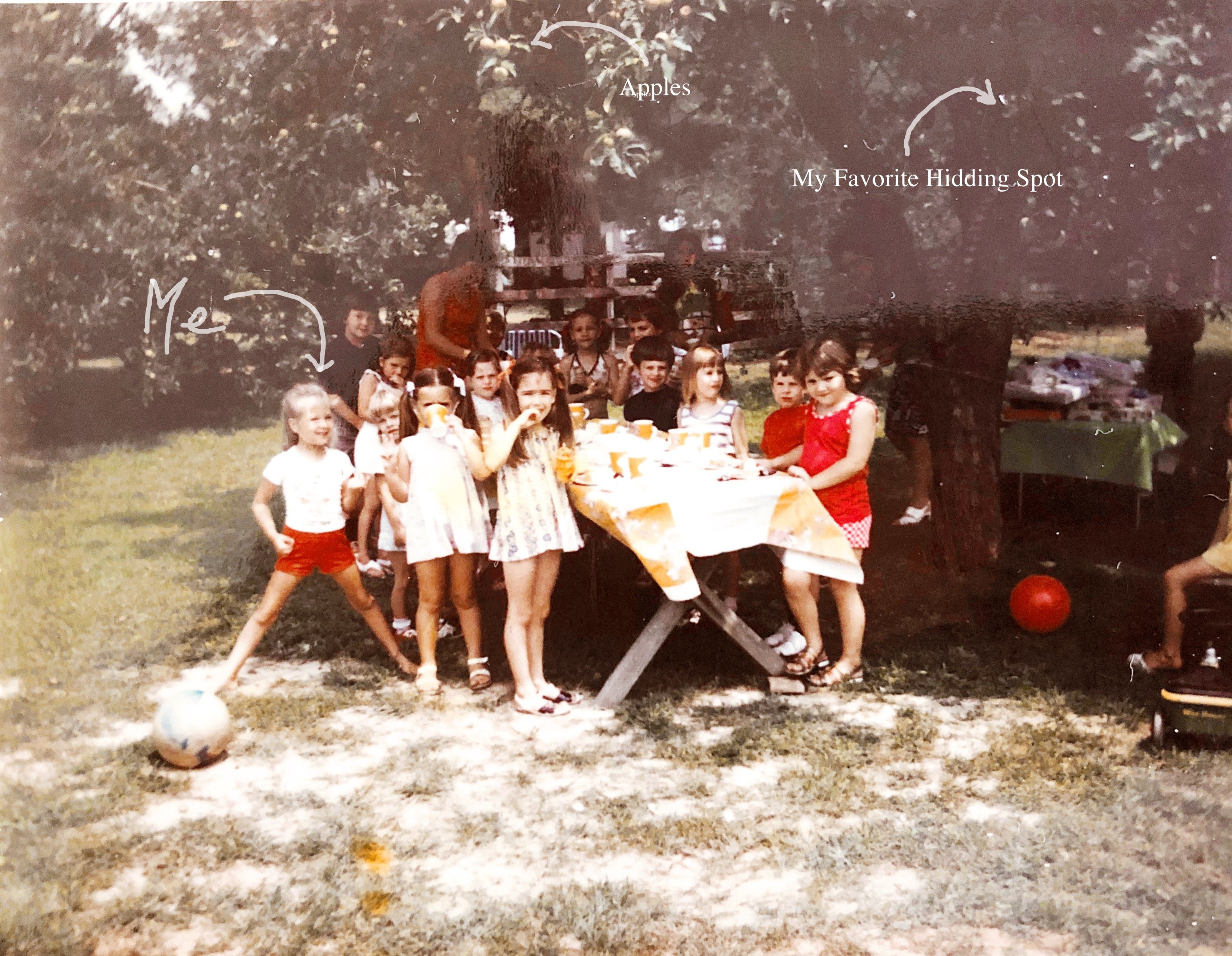 Even at my own birthday party, I was the odd girl out.
"You're too SMART to be an artist."

Yes, that's what my parents told me.  Science and math came easy.  And I earned a full scholarship to the University of my choice.
Fast forward a decade and I am a 19-year old college student working on my own research project shoulder-to-shoulder with PhDs at The University of North Carolina.   Published in a scientific journal before I could legally drink and working 40 hours in the lab on top of an 18 hour course load, I was burning out fast but didn't know it.
I graduated and went straight to work -16 hour days- often 7 days straight, because the research was that important.  Because we were just about to make a breakthrough.
I crashed.
By my 24th birthday, I was living 2000 miles from family and friends with a husband and new baby.  My degree in Molecular Biology had no use in the industrial town that we had been transferred to with my husband's job.
My newest passion became Ariana Sage Niehaus, my first born.
We made a lot of hard decisions in order for me to be home with her.  Hand washing diapers and going down to a single vehicle for few years.  I leaned on my past skills: stitching up cute baby clothes from old bridesmaid gowns, curtains from table cloths, furniture from shipping crates.  With nowhere to go (and no car to get there), I picked up my paintbrushes again.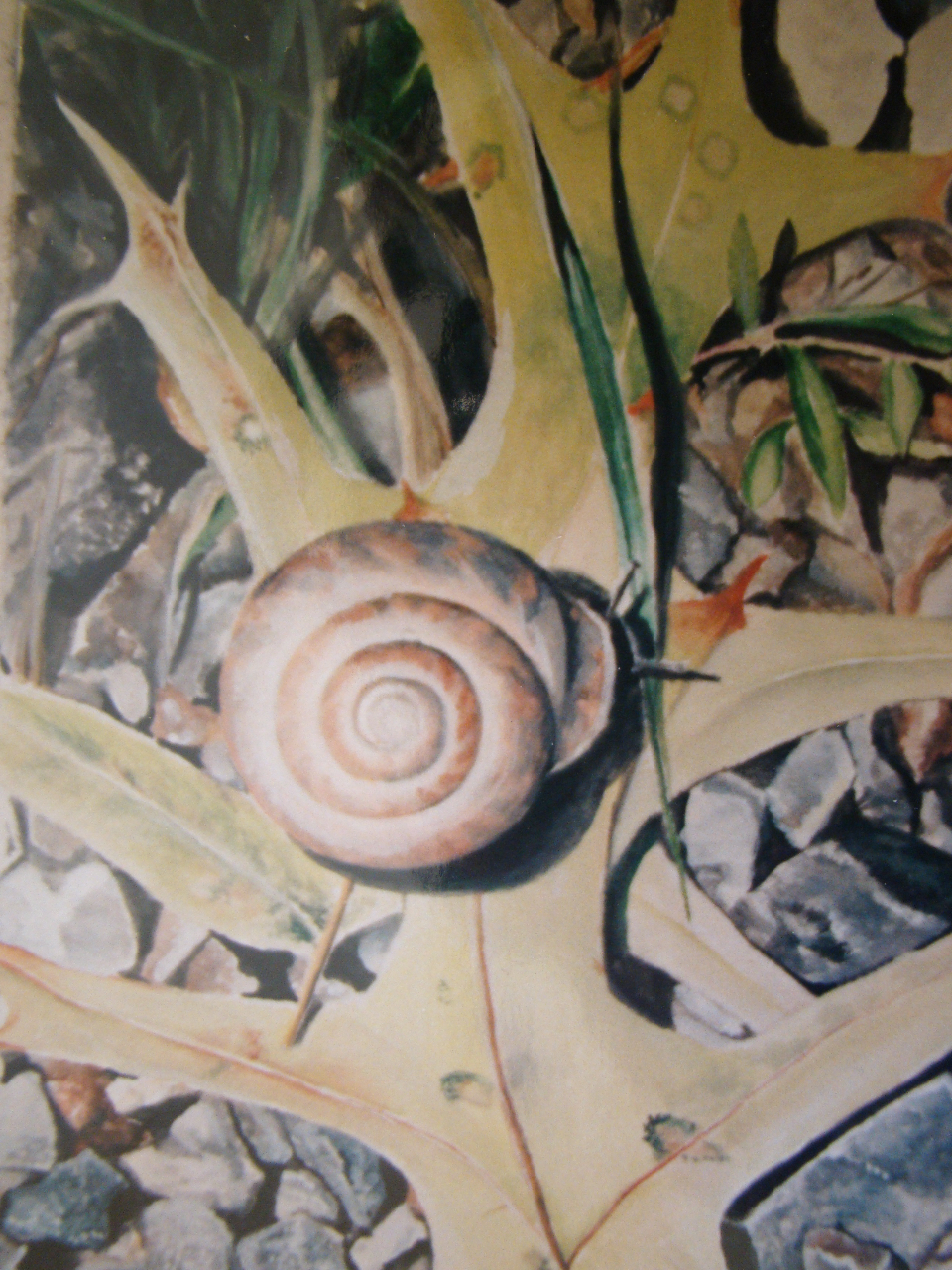 "Mountain Walk" watercolor 1995
Farewell to Texas.
With the birth of baby #2, moving closer to family made sense.  But the cost of living back on the East Coast would mean me earning more than I was making selling an occasional painting.  From Texas to Delaware, we bought our second home.  After several years in a sales job that I could do from home and doing small design jobs for friends and neighbors, we built our dream home. 
Then my husband's company downsized. 
Cue the internet dial up sound.
My husband spent all day/ every day searching for a job online; hogging both the internet and the phone lines.  Running a home based business became nearly impossible.  The idea of getting out of the house was exhilarating. I was scooped up by a large furniture company and quickly hustled into a Management and Training position.  
It wasn't until one exceedingly warm June day that I hung up the phone in the sales office, holding back tears, surrounded by over a dozen team members who were under my guidance; that I recognized that I had spent over a decade in an emotionally abusive marriage.  I could see the facade of the perfect life that I had created crumbling in their eyes as they looked on in shock.  I decided, in that moment, that I could never allow my daughters to think that this was okay.  
My own Fixer-Upper
In the year of bitter divorce that followed, I was able to connect deeper with my daughters than I thought possible.  We bought a 200-year old Victorian home and transformed it together; with help from friends, co-workers,  creativity, and a lot of elbow grease.
We took big, bold design risks.  And they paid off.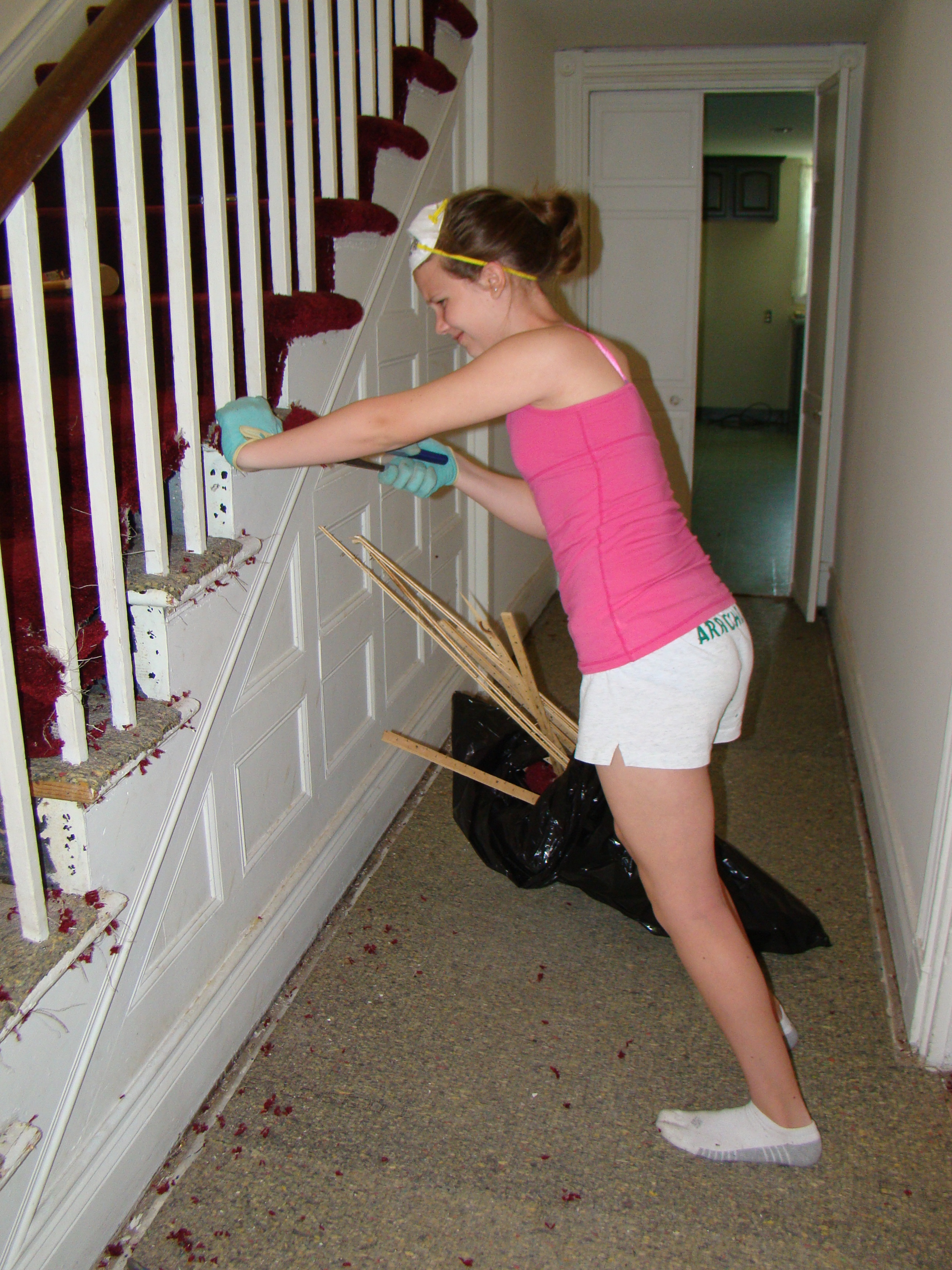 Moriah Bryn pulling 1 of the 3 billion staples
Fifty-five hour work weeks were hard on my pre-teen daughters.  I had to make another hard decision.  We cut corners.  I went to a part-time job as a color consultant for a paint company and launched my own decorative painting business.   The transformation continued.
I met my true love.
Sold the completely remodeled house.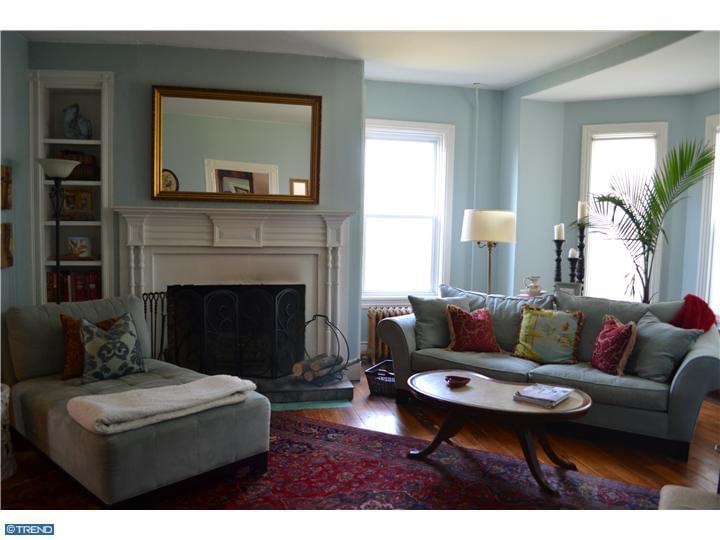 And became a blended family of 7.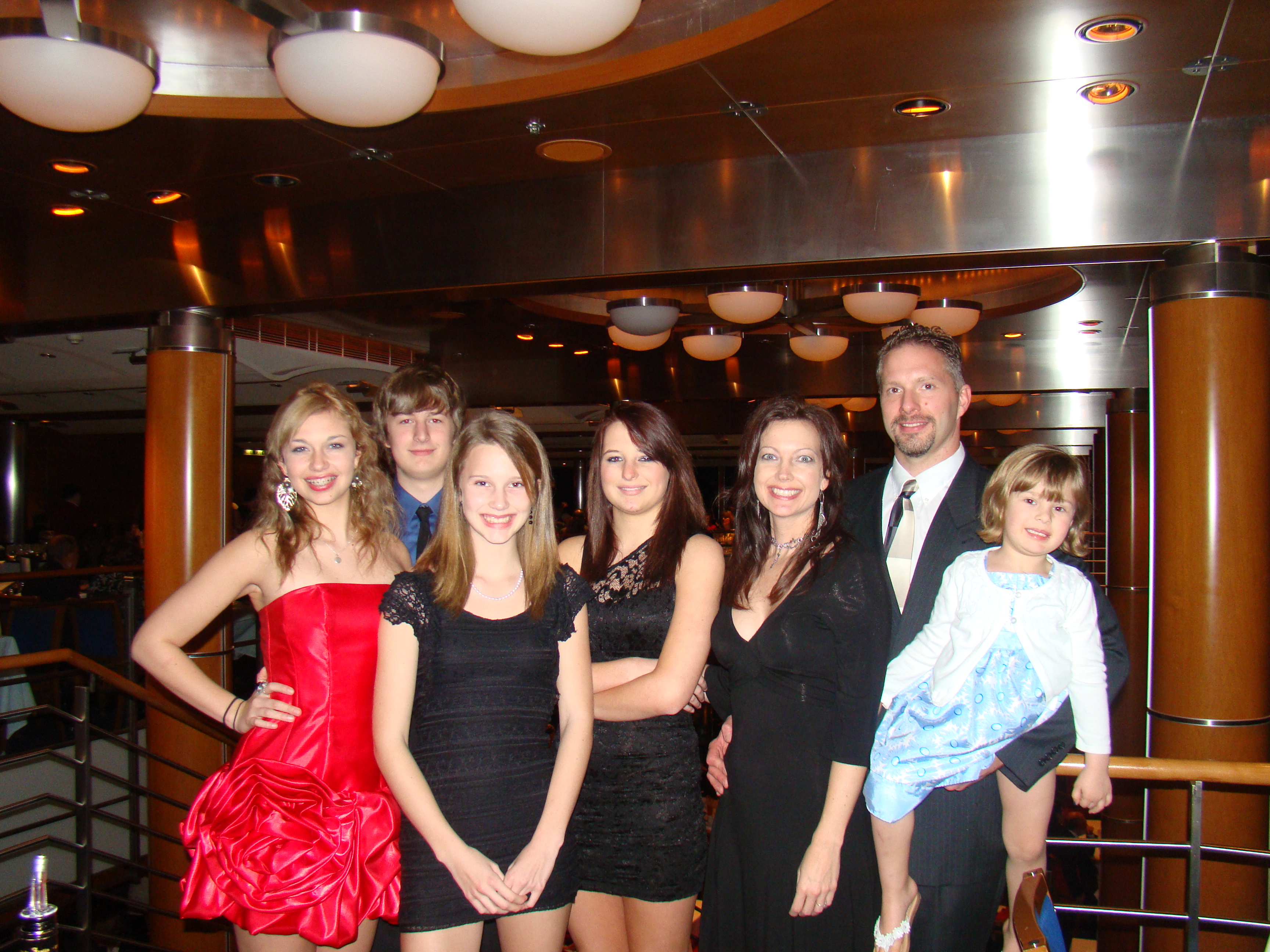 Shift in perspective
After a few years, I moved to a new Design Center where I had the chance to work with more families on a consultation basis.  This meant that instead of doing the design work myself, I was helping others do the work much more affordably than hiring a full-service design professional.  
As I watched my daughter's take their next steps into adulthood with tremendous pride, I saw that they had managed to keep hold of their individuality and creativity unlike me.  They had so much more trust in their own decision-making.  They had confidence.  They honored their ingenuity.  They didn't have to trudge back through the rediscovery process of themselves like me and so many of my friends.
I started listening, intentionally, to the words being said to girls who came into my design center with big ideas.  Instead of diluting down their ideas or letting them charge forward directionless only to end up doubting their own abilities, I started helping their parents think outside the box to get to the heart of what inspired them in a budget friendly way.  I started to wonder how I could package all that I knew how to do and my experience with my own daughters, my step-daughters, my clients, my clients' children into opportunities  and programs where we could keep the fire glowing with the magical little blessings that have been placed in our care...
...and to nurture the creativity and joy of life that is reflected in our daughters' eyes.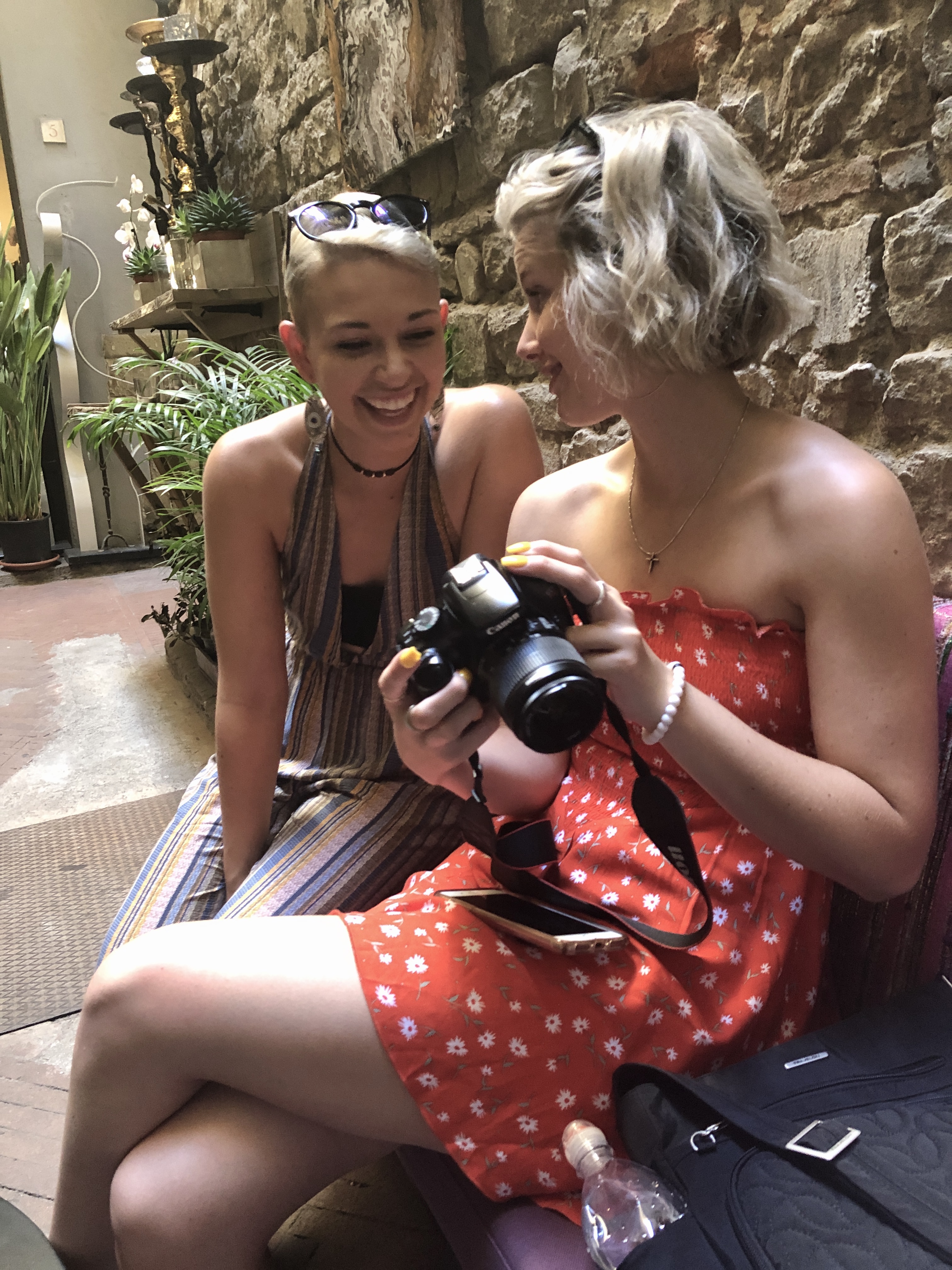 Ariana and Moriah Niehaus in Florence, Italy 

Start Here: In Her Eyes' Most Popular Episodes



Start Here: In Her Eyes' Most Popular Episodes




Start Here: In Her Eyes' Most Popular Episodes


Come Say Hi on Instagram!