The Guide to the Perfectly UNMADE Bed
Isn't it ironic that SO many marketing materials for bedding involve photos of UNMADE beds.  When I started looking at the images that I had collected for clients or the inspiration photos that they shared with me, it occurred to me that the perfectly sumptuous bedding is ALWAYS inviting you in.
YET,
we constantly "remind" our kids to make their beds!
When I discovered this, I was baffled.  Why do frumpled up sheets and blankets look so yummy in pictures that they make you want to crawl into them to the point that you would purchase the advertised bedding?  By layering, with color and texture, the marketing department is painting a picture of scrumptious luxury and coziness.   Since the bed/bedding is most often the central guiding design element in a girl's bedroom, it is critical to have it create the overall look that you are trying to achieve in the space.  With some strategic creativity, you can get the look of a designer room by thinking beyond the standard idea of buying a bedding set and then throwing in some accent pillows and stuffed animals.
As a designer, when I am creating an overall room design, I spread colors and shapes around a room to make it feel cohesive (pulled together.)  Layers and balance start to come naturally as we try things out.  A really great designer will incorporate function and luxurious finishes to complete the look. I am here to help you create your own master designer look! When I started showing clients how we get that yummy, can't wait to crawl in look, I realized that the easiest way to illustrate it was to show them how to create a "Perfectly Un-made Bed."
Now, I believe in forming good habits: aka happy room hygiene. This prescription isn't taking the place of making the bed necessarily; it is helping you to break down the steps to making THE central element of a bedroom design become utterly inviting.  Which is the first step in creating a bedroom that looks fantastic whether the bed is made or NOT!!!!
So how do we do it?
We are working from the bottom up:
The fitted sheet-  The color selection of the fitted sheet is the "color" of the room, not the walls, THE ROOM. (The color that you want to be the stand-out, "favorite" color). So if we are creating a "purple room" we are putting a purple fitted sheet on the bed.  My favorite source for purchasing individual sheets in great colors is The Company Store.
It could be tempting to skimp on quality here.  But I want you to think about 2 things:
This is a foundational color element of the room. (It's going to peak out even when the bed is made.)
Your daughter has the most sensitive and delicate skin that she will have for the rest of her life.  Spending a little extra on sheets could alleviate some skin and acne issues down the road.   Don't forget that the skin is our largest organ in the body. 
Avoid polyester and polyester blends.  Even if there is a crazy thread count number attached.  (Two hundred pennies aren't nearly as valuable as one hundred quarters, threads work the same.) Poly and microfiber threads could create a higher thread count but nowhere near the luxury of 100% (organic is best) cotton.  Man-made fibers splinter and pill pretty quickly. Leaving a dull and scratchy base for what is quintessentially the singular place that your daughter will spend the largest percentage of her time over the next 10 years.  Some 100% cotton sheets can feel scratchy at first.  Wash them a few times in a fragrance-free detergent.  Opt for natural wool dryer balls over dryer sheets which can be irritating to both the skin AND the respiratory system.  Bamboo is a fantastic option as well, although usually pricier.

Of course, if you are going for that chic white-on-white room, white is the foundation color and the textures that we layer on top get us to the same end result.
Next up- Pillowcases:
They should either be the same color as the fitted sheet to maximize the color impact OR they are the room accent color.  (The color that makes your primary color POP!)
(QUICK NOTE:  Acne creams with benzoyl chloride can bleach bedding.  For a really inexpensive indulgence, double case the pillows.  One of my favorite tricks that I learned from Martha Stewart.)

Top sheet:
I get that the millennial trend is to skip the top sheet.  And if you grew up with polyester Cinderella sheets, I see why.  If you are using a top sheet (which I do suggest) you want to create contrast.  So either make it white, a white background print, OR if the room style is more of a muted farmhouse style, an off-white linen/ cotton-linen blend.
Textured blanket:
To me, this is the most critical layer.  I love a great waffle blanket.  Instant texture, warmth, and structure.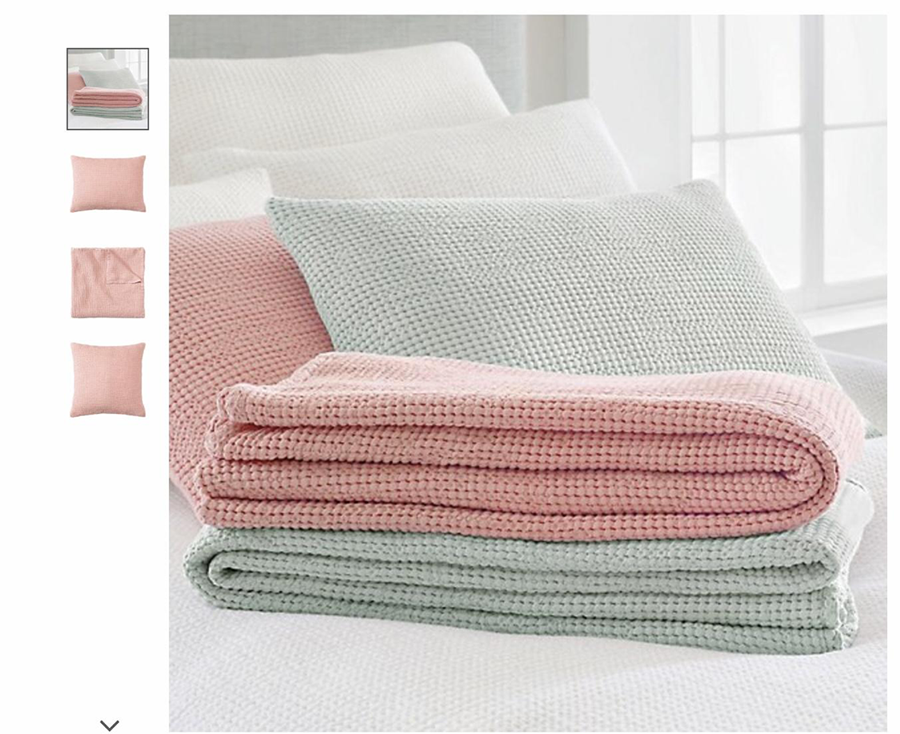 If you decided to forego the top sheet, make the textured blanket white.  If you have your contrast from the top sheet, the textured blanket should be a variation on the principal room color.  A slightly lighter color than the fitted sheet will give the illusion of depth. 
Pillow Shams:
If you have already purchased a bedding set, you can use the included shams.  You are not sleeping on them so what they are made of doesn't matter as much.  If you are starting from scratch, I love Euro shams.  They are square, usually 24 x 24.  They are great for propping up to read or do homework in bed.  This is the best place for color and pattern.  And fun!
Coverlet:
Notice that I didn't say comforter.  It can be but you want to select a solid color or simple (very simple) pattern.  I gravitate toward a textured, stitched matelassé (pronounced mat-LE-zay) it is instant texture.  There are other really fun covers out there that create similar effects. Think fun stitching!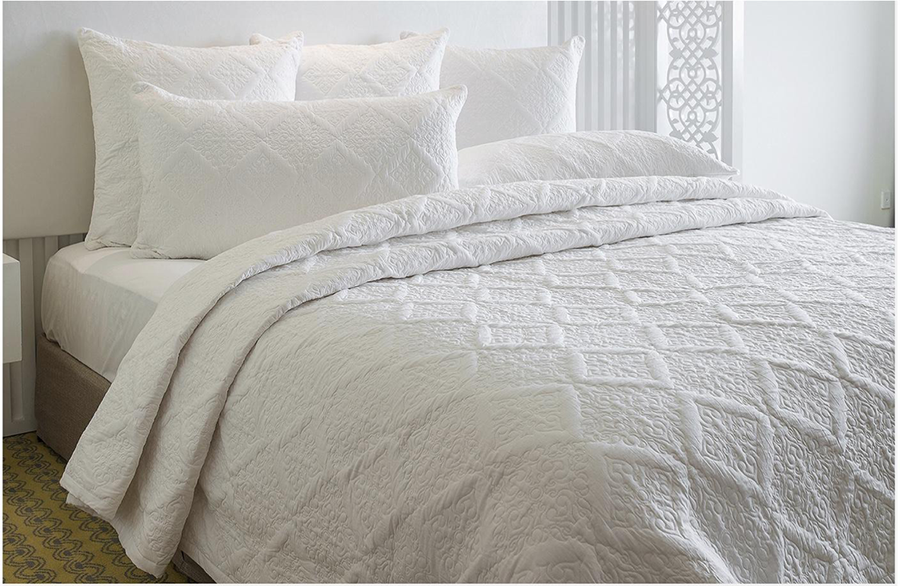 Colorful patterned comforter or luxury blanket:
This goes at the END of the bed. It can be from a bedding set.  Or if you are working on a monochromatic look, this is where you can do a great fur blanket or a blush version of your overall scheme.  The great thing is that it keeps the rest of the bedding in place for all but the most chaotic sleeper.  It's easy to give a quick smooth.
Throw pillows and stuffed animals:
A well-coordinated color palette of bedding minimizes the need for the constant addition of fabric accents.  And they end up all over the place.  A shelf, or "place of honor" for favorite stuffies keeps things looking more orderly while still close at hand for necessary snuggling and comfort.  And they can watch over things when no one is there. 

And my one last trick for creating a pulled-together look:
A patterned rug beside the bed that coordinates with the bedding adds instant structure to the room.  There are so many fun, inexpensive options on the market.  But what if the room is already carpeted? Rugs on top of the carpet add an extra element of luxury.  

I would love to hear your thoughts below.  After years of chaotic, messy bedrooms, I found a solution that didn't make me pull my hair out and gave my daughters beautifully designed beds that created the foundation for their space.  (I just overheard my 22-year daughter describing how she was going to decorate her first apartment, and she started with planning out her bed! You can imagine how proud I was!!)

Happy Styling!
XO,
Lynne Niehaus